Did you know that Toranomon Language School offers educational summer intensive courses for kids?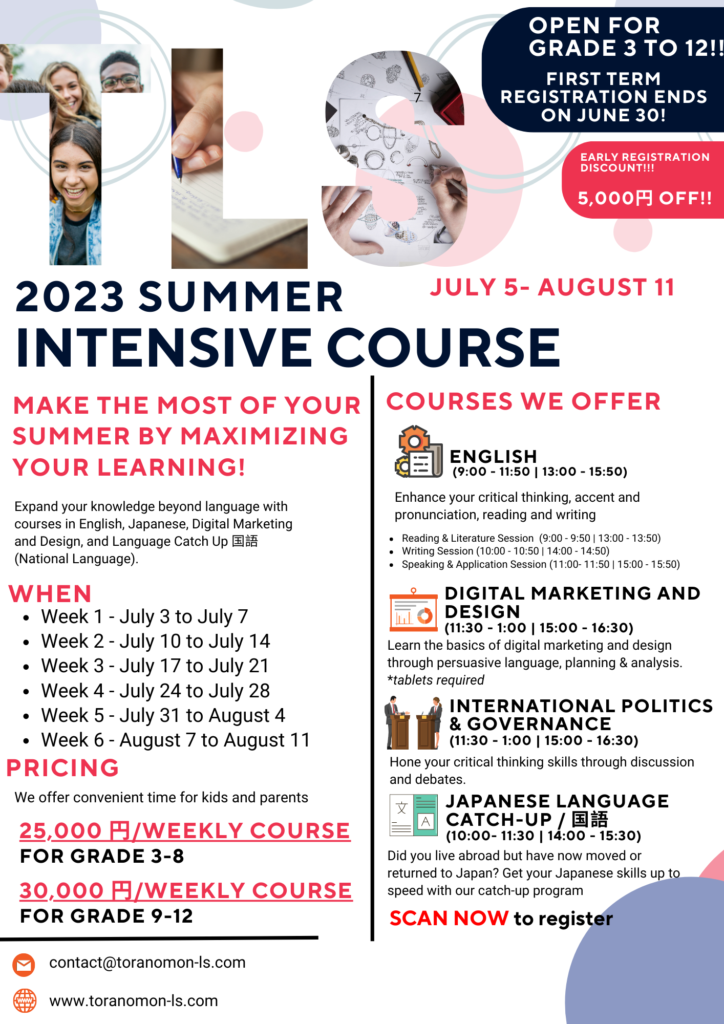 From July 5 to August 11 we will be holding the following:
English
Work on literacy and public speaking skills.
Digital Marketing & Design
Learn the basics of this important modern skill.
International Politics & Governance
Hone critical thinking skills through learning, discussion and debate about political issues.
Japanese Catch Up
Whether your child attends Japanese or International School, this course is designed to get them up to speed.
These courses are a valuable opportunity for your child to develop their language skills and intelligence over the summer. You can choose any or all courses, and attend the time slots suitable for your family. Get in touch with us any time if you have any questions or see more info at: https://toranomon-ls.com/2023-summer-intensive-courses/
The courses are offered on the following dates:
Week 1 – July 3 to July 7
Week 2 – July 10 to July 14
Week 3 – July 17 to July 21
Week 4 – July 24 to July 28
Week 5 – July 31 to August 4
Week 6 – August 7 to August 11
The cost:
25,000 yen per week for grades 3-8
30,000 yen per week for grades 9-12
To register: