ADVANCED SKILLS FOR WORKING IN JAPAN (FOR N1-N2)
Gain the importance of interaction with customers, cooperation with others, weighing up costs, improvement in the workplace, time management, goal setting, quality assurance, and importance of deadlines
Socio-cultural competence ensuring smooth communication with Japanese team members
Learn what is important to achieve better results with Japanese team members
What you CAN take away from this course
To deepen cross-cultural understanding and team-building for both Japanese and non-Japanese employees
Through the work in the workplace, understand and practice the "hourensou" culture of Japanese companies
Improve Japanese language skills necessary for business execution
Increase understanding of and contribution to the corporate culture
 

Team Building, 

deepen mutual trust
Improve cross-cultural understanding and facilitate communication within the company
Japanese employees can also deepen their understanding of foreign personnel and promote diversity
Cross-Cultural Understanding
Team Building
Case studies
Reporting and Communication
Japanese language skills at work
Intensive:  (1h) 2 times/week x 12 weeks 24 times
Regular: (1h) 1 time/week x 24 weeks 24 times

16:00-18:00, 

Monday and Thursday
Classes of 2-6 students
N2 Japanese level and above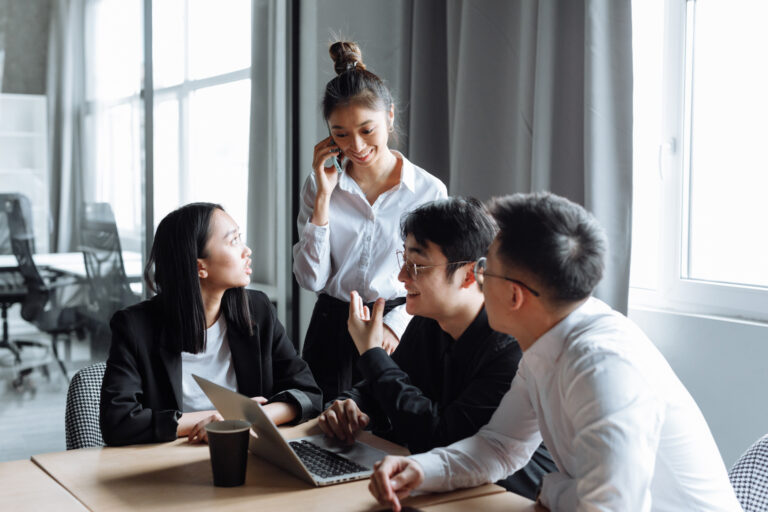 What you will take away from this course:
To deepen cross-cultural understanding and team-building for both Japanese and non-Japanese employees
Through the work in the workplace, understand and practice the "hourensou" culture of Japanese companies
Improve Japanese language skills necessary for business execution
Increase understanding of and contribution to the corporate culture
Team Building, 
deepen mutual trust
Improve cross-cultural understanding and facilitate communication within the company

Japanese employees can also deepen their understanding of foreign personnel and promote diversity
 1. 
Cross-Cultural Understanding
 4. 
Reporting and Communication
 5. 
Japanese language skills at work
 (1h) 2 times/week x 12 weeks 24 times
(1h) 1 time/week x 24 weeks 24 times
16:00-18:00
Monday and Thursday
FIRST STEPS TO FINDING THE RIGHT COURSE FOR YOU